Here is a small amount of film of 17 year old Little Pattie and Col Joye at Nui Dat on the day of the Battle of Long Tan – 18 August 1966.
Sydney entertainers Col Joye and the Joy Boys and singer Little Pattie, toured the Australian Task Force area at Nui Dat, South Vietnam on an armoured personnel carrier before giving shows for troops. They stopped to watch an air strike on the foothills of a nearby mountain. Smoke rises as bombs pound Viet Cong positions. (more…)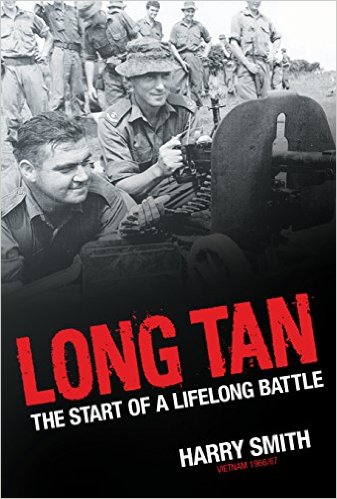 Lt. Col Harry Smith SG MC (retd), former Officer Commanding of Delta Company, 6RAR during the Battle of Long Tan has released his own book.
Written in partnership with award-winning journalist Toni McRae, "Long Tan A lifelong battle" is also Harry's life story and portrays his many personal battles, from failed marriages to commando-style killing; from a horrific parachute accident through to his modern-day struggles with bureaucracy for recognition for his soldiers. Harry's battles are tempered by his love of sailing, where he has at last found some peace.
On the afternoon of 18 August 1966, just five kilometres from the main Australian Task Force base at Nui Dat, a group of Viet Cong soldiers walked into the right flank of Delta Company, 6 RAR. Under a blanket of mist and heavy monsoon rain, amid the mud and shattered rubber trees, a dispersed Company of 108 men held its ground with courage and grim determination against a three sided attack from a force of 2,500 Viet Cong and North Vietnamese Army troops.
When the battle subsided, 17 Australian soldiers lay dead, 24 had been wounded of which one died 9 days later. Battlefield clearance revealed 245 enemy bodies with captured documents later confirming the count at over 500 enemy killed and 800 wounded.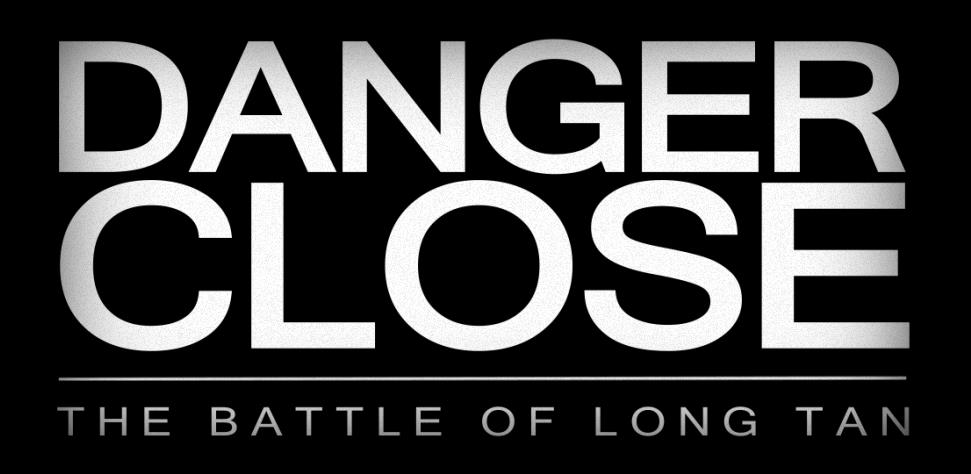 Unfortunately I have some sad news for everyone who has been interested in our movie based on The Battle of Long Tan called DANGER CLOSE. We simply have not been able to raise the remaining funds needed to make the movie in time for a release around the 50th Anniversary of The Battle of Long Tan next year – August 2016.
As you might know we have assembled an incredible team starting with our Director Kriv Stenders who directed the box office hit RED DOG and who is currently filming the follow up BLUE DOG. We have a cracking script written by Australia's most successful writer, Stuart Beattie. Stuart wrote the scripts for COLLATERAL starring Tom Cruise and Jamie Foxx, all of the PIRATES OF THE CARIBBEAN films, GI JOE, Australia and wrote and directed TOMORROW WHEN THE WAR BEGAN.
Sam Worthington who narrated my Battle of Long Tan Documentary is producing the film with me through his own Full Clip Productions. My producing partners John Schwarz, Charles Hannah and Executive Producers Meyer Shwarzstein, Peter Wetherell and Michael Schwarz have produced critically acclaimed mini-series and films like DEADLINE GALLIPOLI, THE WORLD's FASTEST INDIAN, BRIDGE TO TERABITHIA and many others. Our First Assistant Director Chris Webb and Line Producer Paul Ranford have worked on films such as MAD MAX, GETTIN SQUARE, RED DOG, THE WATER DIVINER, DEADLINE GALLIPOLI, THE YEAR OF LIVING DANGEROUSLY, THE MATRIX, MAD MAX FURY ROAD, MAO's LAST DANCER, BABE and many others. We also have a fantastic, potential ensemble cast lined up, led by Sam Worthington (AVATAR, TERMINATOR SALVATION) in the role of Major Harry Smith.
50 years ago in June 1965, the first Australian combat troops, 1RAR along with support elements; 105 Field Battery, 161 Field Battery (New Zealand) and a Troop of Australian APC's – all attached to the US 173rd Airborne Brigade - arrived in Vietnam. 49 years ago on 9 June 1966, the first Australian Task Force arrived in Vietnam.
An infantry battalion, 6RAR, comprising approximately 600 combat troops, an Armoured Personnel Carrier unit, the 4/19th Prince of Wales Light Horse, Australian Artillery, a Royal Australian Air Force (RAAF) unit with six Caribou planes, a small surgical team, some civil engineers, diary and signals experts and the men in the Australian Army Training Team Vietnam (AATTV), were under the command of Colonel, later Brigadier, Oliver Jackson, the Commander, Australian Army Force, Vietnam, who although based at the Australian Headquarters in Saigon, was under the operational control of the U.S. Supreme Commander, General William Westmoreland.
Earlier on 6 June 1966, eight Iroquois helicopters from 9 Squadron, Royal Australian Air Force (RAAF), landed at the Vung Tau airbase, Vietnam. The Bell UH-1B Iroquois or "Huey" is almost synonymous with the Vietnam War and for the next five and a half years 9 Squadron's Hueys supported the 1st Australian Task Force (1ATF).
Sadly, another of the brave, gallant, Battle of Long Tan veterans has passed away this week.
20 year old Harry Esler was conscripted into the Australian Army in 1965 as part of the very first intake of Australian National Servicemen for the Vietnam War. After National Service training, Private Harry Esler was posted to 10 Platoon, D Company, 6RAR in September 1965 and he would go on and fight as a 21 year old riflemen in the incredible Battle of Long Tan.
Harry was 70 years young, and sadly he passed away on Wednesday morning, 15th April 2015 at his home in Newcastle. Our thoughts are with his family, friends and fellow Vietnam warriors this week.
UPDATE - The funeral service for the late Harry Esler will be held at:
9.30am, Wednesday 22nd April, 2015
The Chapel of Pettigrew Funeral Home,
3 Harris Street, Wallsend, NSW
I've pulled together some of the interesting moments during the Battle of Long Tan which included Private Harry Esler:
Esler says, "They stuck us on a plane and flew us to Vietnam. We landed on a beach and I thought, This is it. This is going to be great. A nice little beach at Vung Tau. Then they whipped us up to Nui Dat into the middle of a rubber plantation. When we got there it was all mud. There was no machinery to help us, we had to do it all by hand." (more…)
These are some recollections about a young Australian, Paul Large from Coolah in rural New South Wales who departed for the Vietnam War on his 21st birthday. He was killed in action 10 weeks later at the Battle of Long Tan on 18 August 1966. Paul was the only brother of five sisters.
"… The CO of Canungra announced on Friday night that Delta Company was the best company, and 12 Platoon the best platoon, that has been through since World War II. It might not seem like much to you, but, believe me, it is an achievement that any company would be proud to have. We will have a reputation to live up to, but after working with all the blokes out there, we are all sure we can live up to it."

Private Paul Large, 12 Platoon, Delta Company 6 RAR, writing home to his parents about the training at Canungra, Queensland, on the eve of departing for Vietnam. The letter is dated 3rd April 1966, five months before the Battle of Long Tan.
By Lawrie Lovegrove, 'Duck'. A mate of Paul Large.
'Largie'
My earliest contact with Largie at Coolah was after my good mate Mick Donohue left the Catholic school to attend the public school, although it was some years after. Largie at that time ran with a different mob of mates, as all young fellows do from time to time — blokes like "Grimmy" Graham and "Bogan" Elliott are two that spring to mind. It wasn't until Largie's Dad and Mum, Vic and Dulce, moved to the house in Hospital Street where he was more closer to our territory that we started to knock around together more. Most kids up to the age of 12-13 seemed to stick to their own "territory", but after that moved further afield and went bush and became "free-range ferals". Fences were just something you climbed over, to keep stock in, not necessarily someone's boundary. We never did any harm while on someone's land, just chased kangaroos and rabbits with Sticks and rocks. Of course, it's so different today, but looking back it was probably the reason we grew healthy and quickly.
But going back again to the pre-Hospital Street days when Largie lived in Binnia Street opposite old "By Golly" McCann's, we used to spend time down by the creek, catching yabbies, swimming, pelting flat spinners on the water, and generally having a good time, always accompanied by Largie's old black mongrel, Monty. We never got bored, unlike kids today. We always found other things to do, new territory to conquer, and made our own fun. During these times, Largie was always an innovator, suggesting we do this or that, and either leading or urging someone else to do something he wasn't quite game enough to do himself. I can't say I have any memory of Largie with a serious face. (more…)
The links that bind Australian and New Zealand soldiers, past and present, will be underscored when veterans of the historic Battle of Long Tan join with troops who have served in Iraq and Afghanistan for a very special charity event in Canberra next month.
This event will feature a first ever screening on the big screen of the critically acclaimed and award-winning documentary The Battle of Long Tan narrated by Sam Worthington (Avatar, Terminator Salvation, Clash of the Titans) at Dendy Cinemas in the Canberra Mall.
The event on Thursday, 16 August, which has the full support of former Chief of the Australian Army LTGEN Peter Leahy AC (Retd), is being held in advance of the 46th anniversary of the Long Tan conflict – one of the most savage of the Vietnam War.
All proceeds raised will be shared between Australia's two major independent soldier support groups – Soldier On soldieron.org.au and The Commando Welfare Trust commandotrust.com.
This event will bring together an array of military veterans, family, next of kin, serving soldiers, politicians, and representatives of the business and entertainment sectors.
One of the misconceptions I see time and time again in online forums and in the media is around the success or failure of movies based on their box office performance and their budget and therefore whether the movie actually makes any money for the producers, production company and investors (if any). I've also written a previous blog post called 'Can Australian Films Make Money' which outlines why many Australian films don't make money and the key attributes filmmakers should be focused on.
I must point out that there is no such thing as 'build it and they will come', in our case make a film, get a small distribution deal and people will come and see it. The majority of Australian films suffer from poor to non-existent marketing, unrealistic expectations about audience interest, not enough investment in marketing or poorly targeted marketing. Mao's Last Dancer achieved $15m at the Australian box office off the back of a best selling book (existing audience) and a $2.5m+ marketing budget. Even great films like 'The World's Fastest Indian' which did extremely well in Australia and New Zealand and generated critical acclaim, can do poorly with poor distribution deals – in this case a poor U.S. distribution deal. I have outlined a detailed case study of Paranormal Activity which was made for USD$15k and earned some USD$180m at the box office through a very smart marketing strategy and campaign in one of my other blog posts 'The Future of Filmmaking: Seizing back control of the Six Pillars of Cinema'.
Now, before I outline a couple of detailed breakdowns of what a movie might earn and the expenses and fees associated with it (tables below), it is important to note the different distribution relationships independent producers have with the distributors:
In-house studio production
Negative pick-up
Distribution agreement
Following the recent approval of the script outline for the feature dramatisation LONG TAN written by The Story Shop (James Nicholas, Karel Segers, Paul Sullivan), Sydney based scriptwriter Jack Brislee has been brought onboard to complete the script writing team.
Jack is the author of 16 screenplays, one novel and one play. He has written comedies, dramas and adapted 5 books for the screen.
LONG TAN Producer Martin Walsh said, "We are very excited to have Jack Brislee onboard to write the script for our LONG TAN movie along with James, Karel and Paul. The Story Shop team have really captured the essence of this story in the Outline and we know we now have the right approach to telling this very important, unique story and critically in a way which will work across all audiences and on the big screen". (more…)
The Commander at the helm of the historical and bloody Battle of Long Tan has welcomed the addition of an 'unsung hero' of the Vietnam War to the list of candidates for a retrospective Victoria Cross.
Lt Colonel (Retired) Harry Smith said it was "only right and proper" that the Defence Honours Awards Tribunal investigate posthumous VCs for soldiers in the Vietnam and Korean conflicts alongside those for the two World Wars.
"I am cheered that my formal application for Warrant Officer Jack Kirby for his sustained gallantry at Long Tan has been accepted. Throughout the battle 'Big Jack' disregarded his own safety while braving enemy fire to distribute ammunition," commented Smith. You can read more about what Jack Kirby did during The Battle of Long Tan in our previous blog post: Jack Kirby – An Unsung Hero of The Battle of Long Tan.