**N.B. I've created a new BATTLE OF LONG TAN website with a lot more information and resources, please check it out!
As part of the work behind this project, I undertook more than 2 years of extensive research in order to ensure accuracy of our "The Battle of Long Tan" documentary and the upcoming "Long Tan" feature film. To help us inform the media about the facts and figures surrounding the battle we developed a simple .PDF document with all the information.
Click on this link to download The Battle of Long Tan Fact Sheet (.pdf document).
Here is just a sample of some of the Facts & Figures:
Total Australian and enemy casualties as a result of the Battle of Long Tan –
Australian
18 killed (17 from D Coy, 6RAR and 1 from 3Trp, 1APC Squadron)
24 wounded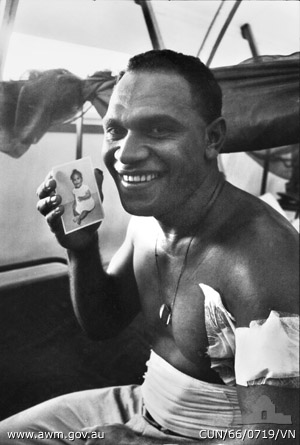 NVA and VC
245- 800 killed (245 bodies officially counted on the battlefield but many more bodies were found over two weeks after the battle and VC tactics were to remove the dead so no accurate counts could be made.)
More than 1,000 wounded (Identified from captured documents)
2 wounded NVA soldiers were captured on the battlefield
1 wounded VC soldier was captured on the battlefield
Total number of forces opposing each other on the battlefield at Long Tan –
105 soldiers from D Coy, 6RAR, Australian Army
3 man New Zealand Forward Artillery Observation party, 161 Bty RNZA
Total 108 men
2,000 soldiers from 275 Viet Cong Main Force Regiment (effectively an NVA Regiment as the unit was formed in North Vietnam)
500 soldiers from an unidentified North Vietnamese Army Battalion, probably from 33rd NVA Regiment
550 soldiers from D445 Viet Cong Provincial Mobile Battalion (local force VC)
A total of approximately 3,000 troops faced off against D Coy, 6RAR. But it is estimated that only around 2,500 directly took part in the battle.
Australian, New Zealand and American Supporting Units
103 Battery, Royal Australian Artillery (6 x 105mm L5 pack howitzers)
105 Battery, Royal Australian Artillery (6 x 105mm L5 pack howitzers)
161 Battery, 16 Field Regiment, Royal New Zealand Artillery (6 x 105mm L5 pack howitzers)
A Battery, 2/35th Howitzer Battalion, US Army (6 x 155mm M109 Self-propelled howitzers)
9 Squadron, Royal Australian Air Force (8 x Bell UH-1B Iroquois 'Huey' choppers)
Unidentified  United States Medical Company (Air Ambulance) – 1 x UH-1B Huey participated in the night airlift of wounded Australians from the edge of Long Tan alongside 9 Squadron, RAAF)
3 Troop, 1 Armoured Personnel Squadron, Australian Army (7 x M113 APC's)
B Company, 6RAR (32 soldiers – 48 had returned to Nui Dat for R&R on 17 August – arrived during last 10 minutes of the battle)
A Company, 6RAR (108 soldiers – arrived on the APC's as the battle ended)
United States Marine Corps, Marine Attack Squadron 542 (VMA-542) – 2 x F-4 Phantoms provided an airstrike in support of D Coy, 6RAR