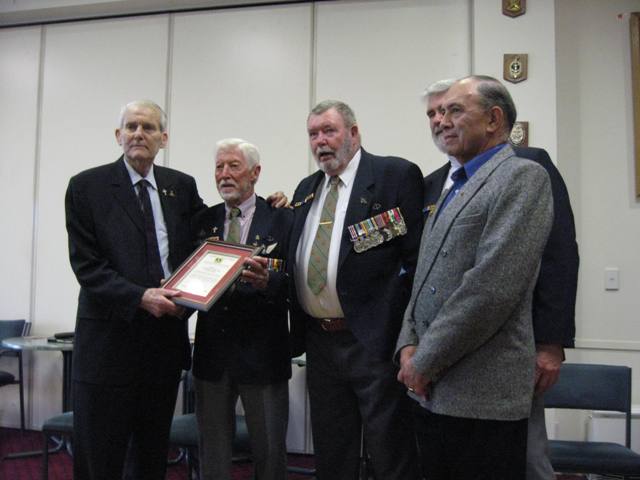 **Update: Watch Channel 7's Sunrise Soapbox discuss this story at the bottom of this post.
The man who led Australian soldiers to victory at the bloody Battle of Long Tan 44 years ago is taking his fight for medals justice to the Federal Court.
Harry Smith, Lieutenant Colonel retired, today confirmed he will be pursuing court action in the New Year to get sign-off for the medals and commendations denied to eight members of Delta Company, two of Alpha Company 6RAR, and one of the Armoured Troop which repelled 2,500 North Vietnamese and Viet Cong enemy in an historic conflict on August 18, 1966.
Smith was the commanding officer of the 108 Australian and New Zealand troops that defied the odds in a three hour battle amid a rubber plantation deluged by monsoonal rains, and who later recommended a list of awards for gallantry that was slashed by senior officers.
Fourteen years ago he launched a campaign to gain recognition for all the soldiers on that list when the awards were denied a hearing at a formal Review in 1998, which approved 81 other Vietnam awards.
The pending class action is in support of the final 11 men "left out in the cold."
"We should win this action because the Defence Honours and Awards Tribunal set up by the Federal Government in 2008 to review our medals claims was seriously flawed in its report, at least," comments Smith, who was belatedly awarded a Star of Gallantry for his role at Long Tan, having been downgraded from a Distinguished Service Order in 1966.
"We wanted to appeal in 2009 but couldn't because the tribunal wasn't a statutory body under the Defence Act. Now it is and the Governor-General has enacted its new status."
Smith will present new evidence to the Federal Court, involving claims of an invalid scale of awards introduced by Canberra just prior to the Long Tan battle, but not approved by London until 1968; alleged falsified statements by Australian military chiefs at the time; and the dismissal or downgrading of half the awards Smith recommended for his soldiers.
A statutory declaration has also been supplied to Smith that supports a witness's evidence to the 2008 Tribunal denying military claims that an exhaustive search had been made for records kept in 6RAR files about Smith's medals recommendations.
This evidence was dismissed in the Tribunal's report.
"The ugly truth about Long Tan, and in fact the entire Vietnam War over a decade, is that senior officers took most of the awards at the expense of soldiers who fought in action," comments Smith.
"There were 726 awards given out in those 10 years, and of those private soldiers got only 22 medals. Many more went to major-generals, brigadiers, colonels and lieutenant colonels far from the action."
Of the 11 soldiers the Federal Court action will fight for, at least three are dead. One, National Service officer Gordon Sharp, gave his life at Long Tan.
The awards the soldiers never received include a posthumous Mention in Dispatches; two Military Medals, seven Mentions in Dispatches and a Military Cross.
"My argument is simple – I want justice for these 11 soldiers, the same as given to the 81 men in the 1998 Review, nothing more, nothing less. They deserve to be recognized for their gallantry in close combat.
"They were part of an Infantry Company that encountered a reinforced enemy regiment of the 5th Division which, with some 3,500 men in six battalions, and another regiment to the north, had planned to attack the poorly defended Australian Base at Nui Dat on the night of the 18th August, 1966.
"An attack by 5,000 enemy troops on the night of the Col Joye-Little Pattie Concert would have been a military and political disaster.
"It was only because of magnificent artillery support from 24 Australian, New Zealand and US Army guns, an ammunition resupply by two RAAF helicopters, and their own fire, plus courage and determination that Delta Company members held out until the enemy, which suffered horrendous casualties – their plan thwarted – started to withdraw at dark as the Armoured and Alpha Company force approached"