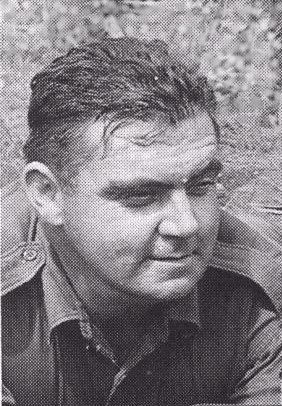 Arguably the backbone and discipline of any infantry company is the Company Sergeant Major (CSM). These soldiers of Warrant Officer rank are part father figure, part teacher and part principle / headmaster. Almost all of the CSM's I've come across have had very strong and unique personalities made up of steadiness, humour, discipline but ultimately a sense of fairness. In the case of D Company (Coy), 6RAR, the CSM was the 31 year old WO2 (Warrant Officer) Jack Kirby.
While the short and nuggetty Major Harry Smith, Officer Commanding (OC) D Coy and the young soldiers strode out on training runs, Jack Kirby was feeling his age and weight. Kirby was a Malaya veteran and naturally a big build. Unable to keep up on the runs, he nevertheless plugged along, always finishing and earning the respect of the soldiers. At the Battle of Long Tan he was to deepen and broaden their regard with his steadiness, bravery and humour.
Throughout the battle 'Big Jack' Kirby disregarded his own safety while braving enemy fire to distribute ammunition. Kirby continuously exposed himself to enemy fire to carry wounded Australian's over his shoulder back to the Company Aid Post. At a critical point in the battle Kirby rushed out of the D Coy perimeter to silence a wheeled enemy heavy machine gun which was setting up less than 50 metres away from the Australians. He knew in just a few moments this heavy machinegun would be able to strafe and decimate the Australians. Kirby killed the enemy machinegun crew, rushed back and continued to carry on handing out ammunition, moving around the entire company position and giving out words of encouragement to the D Coy soldiers.
Here are just some highlights of what CSM Jack Kirby was doing throughout the battle:
The Australian choppers banked over the tree tops, kicked out the ammunition and it crashed down into the centre of D Coy's position, only metres away from Kirby, but was securely packed in boxes. It was needed at once as many of D Coy's soldiers were down to 15 rounds of ammunition each. Kirby and Sgt Rankin had trouble trying to break open the boxes to get at the ammo, it seemed to take ages. And firing could be heard to their front again – belts of machinegun ammunition and rifle ammo were carried back to the CHQ position and thrown to each group – magazines were refilled and firing at the enemy resumed.
Kirby turned up near Private Brian Reilly's position and called to the nearby diggers: "Do you know who that is? No? Well, shoot 'im!"
Kirby noticed a wounded machinegunner, Private Webb, and ran up to the exposed position, picked up the tall soldier and carried him back to the Company Aid Post. Webb's M60 machinegun could not be retrieved so Kirby had to put it out of action by firing a few rounds into it.
Out on the thin perimeter of D Coy, Corporal Laurie Drinkwater was watching the area to his front when Kirby came by and called : "Drinky, you can shoot anyone you don't know!"
Private Brian Reilly heard Kirby call out, pointing to a group of enemy, "Do you know who that is? No? Well shoot the bastard!"
With the ammunition starting to run low again, Kirby went over to the three man New Zealand forward artillery party and took their unused magazines, leaving them one magazine each. Throughout the embattled D Coy position, Kirby continued to move around underneath the flights of bullets, steadying soldiers. A long standing joke in the company was Kirby's insistence that Private Harry Esler was in fact Private Ralph, who had last been heard of on patrol in Malaya. "You remind me of the bludger", Kirby would say to Esler; and on his journey around the perimeter that afternoon, Kirby would remark: "How are you Private Ralph?" And "You're not going to get back if you don't watch out". Undismayed, Esler would reply: "I will. You make sure you do!"
At a critical point in the battle Jack rushed out of the D Coy perimeter to silence a wheeled enemy heavy machine gun which was setting up less than 50 metres away from the Australians. He knew in just a few moments this heavy machinegun would be able to strafe and decimate the Australians. Jack killed the enemy machinegun crew and rushed back with the enemy firing at him all the way.

2Lt Dave Sabben surveys the Long Tan battlefield on 19 August. Enemy dead lie beside their 7.62mm heavy machinegun which was silenced by CSM Jack Kirby.

Kirby again made it around to Esler, doling out the meagre ammunition available and asking Harry Esler, "You alright Private Ralph? Doing a good job?" Kirby then dropped twelve rounds of ammunition by Esler's side.
In the midst of the attacks, with no help in sight, one or two of the soldiers began to show signs of strain. Kirby would then place his large hand on the soldier's shoulder saying, "Get a grip on yourself, son. You're paid to kill these people and here's your chance to earn your money. Get over there." To many of the diggers that long afternoon, Kirby personified the traditional image of a Sergeant-Major. One of the diggers later likened Kirby to the imperturbable British Regimental Sergeant Major who told the redcoats to "do up your buttons, and never mind the spears".
On the morning after the battle there were many media and task force HQ personnel crisscrossing the battlefield and making thoughtless remarks about Australian casualties. Sergeant Bob Buick was about to explode when the observant Jack Kirby materialised beside him. Kirby quietly pointed out an area of rubber trees a short distance away: Buick was to be responsible for securing and searching it. This moved Buick away from the scene, gave him something to do, and allowed him to calm down.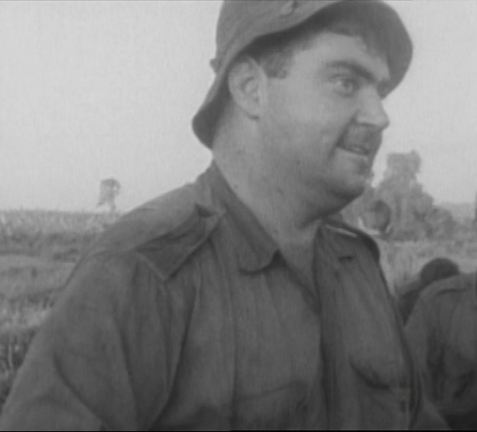 The tragedy of Jack Kirby's story is that he was killed six months after the Battle of Long Tan in February 1967 by a friendly artillery salvo misdirected by an inexperienced New Zealand artillery officer.
CSM WO2 Jack Kirby was awarded the Distinguished Conduct Medal (DCM) for his actions at Long Tan but many of the veterans, historians and his former commanding officer, Lt Col Harry Smith (RTD) agree that Kirby should have been cited and awarded a Victoria Cross. Unfortunately, immediately after the battle, Harry Smith was only given 18 hours to write and submit all of the citations for his men. Harry did suggest to 6RAR Commanding Officer Lt Col Colin Townsend that Kirby should have got a VC but Townsend said he would only sign a DCM citation.
There have been many precedents for the upgrading of gallantry medals to soldiers throughout all wars (recently some of the other Long Tan veterans) and we believe that Jack Kirby's gallant and heroic actions at Long Tan are well deserving of a Victoria Cross. Lastly, not a single Victoria Cross was awarded to any soldier in the Task Force, despite 500 men being killed in action.
*Keith Payne, Kevin Wheatley, Ray Simpson and Peter Badcoe were awarded a Victoria Cross in Vietnam but they were part of the Australian Army Training Team Vietnam (AATTV) and not 1 Australian Task Force.