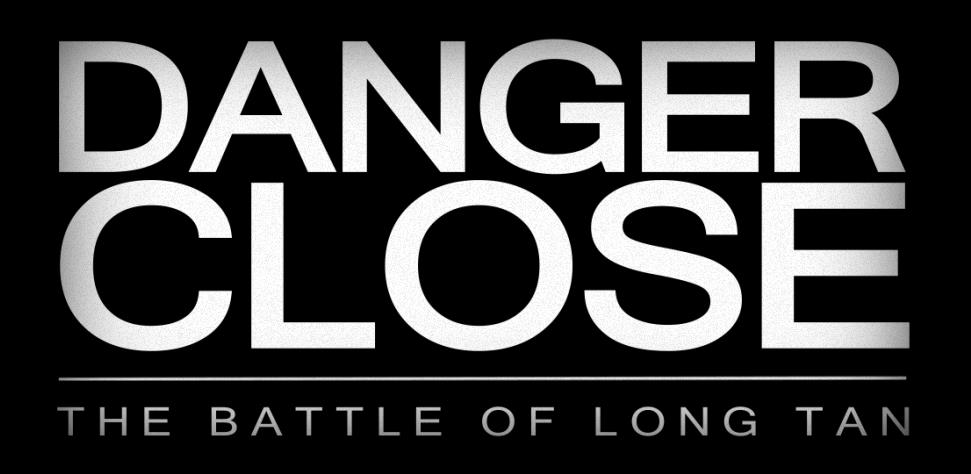 Unfortunately I have some sad news for everyone who has been interested in our movie based on The Battle of Long Tan called DANGER CLOSE. We simply have not been able to raise the remaining funds needed to make the movie in time for a release around the 50th Anniversary of The Battle of Long Tan next year – August 2016.
As you might know we have assembled an incredible team starting with our Director Kriv Stenders who directed the box office hit RED DOG and who is currently filming the follow up BLUE DOG. We have a cracking script written by Australia's most successful writer, Stuart Beattie. Stuart wrote the scripts for COLLATERAL starring Tom Cruise and Jamie Foxx, all of the PIRATES OF THE CARIBBEAN films, GI JOE, Australia and wrote and directed TOMORROW WHEN THE WAR BEGAN.
Sam Worthington who narrated my Battle of Long Tan Documentary is producing the film with me through his own Full Clip Productions. My producing partners John Schwarz, Charles Hannah and Executive Producers Meyer Shwarzstein, Peter Wetherell and Michael Schwarz have produced critically acclaimed mini-series and films like DEADLINE GALLIPOLI, THE WORLD's FASTEST INDIAN, BRIDGE TO TERABITHIA and many others. Our First Assistant Director Chris Webb and Line Producer Paul Ranford have worked on films such as MAD MAX, GETTIN SQUARE, RED DOG, THE WATER DIVINER, DEADLINE GALLIPOLI, THE YEAR OF LIVING DANGEROUSLY, THE MATRIX, MAD MAX FURY ROAD, MAO's LAST DANCER, BABE and many others. We also have a fantastic, potential ensemble cast lined up, led by Sam Worthington (AVATAR, TERMINATOR SALVATION) in the role of Major Harry Smith.
We have spent considerable time reducing the original budget from $25m down to $17m without sacrificing the story and without watering down the terrific script written by Stuart Beattie. Everyone has also reduced their fees and salaries on the film to help reduce the budget and keep more money on the screen.
We have been able to secure $12.4m of the $17m from Australian, New Zealand and International Pre-Sales, Federal Government Producer Offset and expected Screen Australia and Screen South Australia or NSW Production Investment, but we've still come up $4m short. We simply cannot make DANGER CLOSE for less money without comprising the story which is ultimately about an epic and incredible battle and incredibly brave soldiers, on both sides.
We've approached and spoken to a number of high net worth Australians about a direct investment but all of them have said they support what we're doing, want to see the movie made but cannot help us out financially. We've also approached some of the major media organisations about some investment support, but no luck.
Ironically, DANGER CLOSE has the strongest commercial potential for any Australian movie which has been produced and released in the last 10 years with the exception of AUSTRALIA, MAD MAX: FURY ROAD etc. Further, the 50th Anniversary of Long Tan next year would have been a once in a lifetime marketing and publicity opportunity which would have translated into even more people seeing the movie and talking about our Vietnam Veterans, the Vietnam conflict and this important, transformative period of Australian history.
We've also asked for some special one-off financial assistance from the Prime Minister Tony Abbott, Minister for the Arts George Brandis, Minister for Veterans Affairs Michael Ronaldson and the NSW Premier Mike Baird and NSW Minister for Arts and Deputy Premier Troy Grant but all of our requests have been rejected.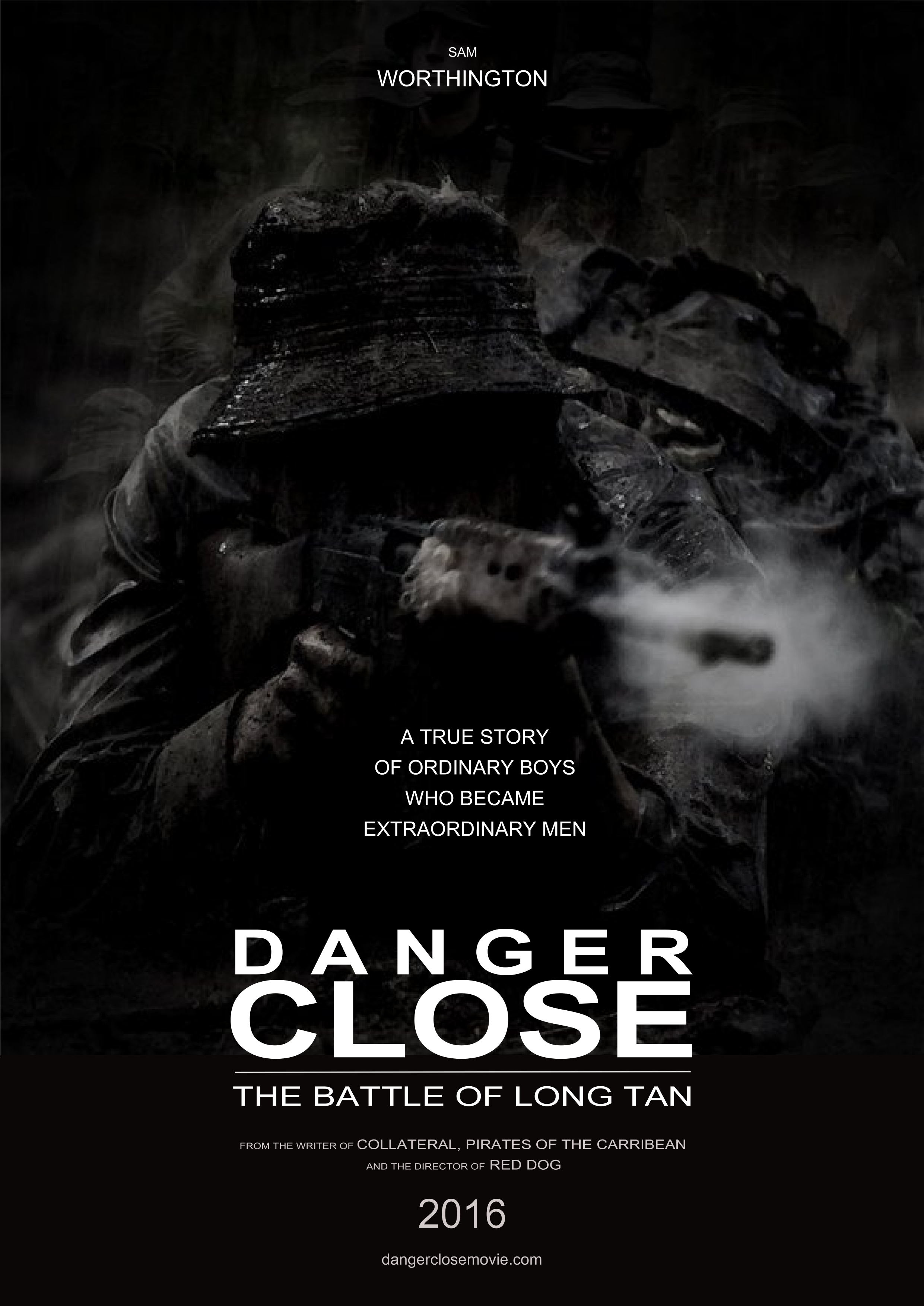 We clearly outlined to the Federal and State Governments how important this story is for our culture and history and that we have not had an epic, modern interpretation of our ANZAC legend since THE LIGHTHORSEMEN some 29 years ago! Almost all of the major Australian feature films featuring our soldiers have been about WWI or earlier; BREAKER MORANT, GALLIPOLI, THE LIGHTHORSEMEN, BENEATH HILL 60, THE WATER DIVINER, DEADLINE GALLIPOLI. We do desperately need to create our new myths and legends on screen and across the media and the best and only way to do this is to bring a story like Long Tan to life on the big screen.
We clearly outlined to the Australian and NSW Governments that we need to honour and pay respect to the largest community of living military veterans; Vietnam Veterans, their families and friends, by making and releasing an epic, high quality movie about a seminal battle of the Vietnam War. The community of Australian Vietnam Veterans, wives, adult children and adult grandchildren and friends, as well as those directly impacted by conscription, actually number some 7 million living Australians today – a massive potential audience for our movie DANGER CLOSE. We also want to demonstrate that Australian made films with a great script, great cast, great crew and good, solid marketing can and will succeed commercially at the box office, across on demand and streaming video and on TV.
Importantly we didn't ask for a handout and we offered to pay back the extra financial assistance of $4m. The Federal Government has previously given one-off, exceptional packages of support to THE WOLVERINE ($12.8m) and PIRATES OF THE CARIBBEAN ($22.6m) and State Governments like NSW have also given millions of dollars in support for foreign films such as THE GREAT GATSBY, GODS OF EGYPT and UNBROKEN. All of these tens of millions of dollars are free money, grants, never to be repaid. Now we totally understand that those films generate expenditure in Australia and create temporary jobs that could have been spent and created in other countries or states, but DANGER CLOSE would inject at least $12m of the $17m budget into the Australian economy and create around 1,200 jobs as well. But importantly DANGER CLOSE is historically and culturally important and any profits would benefit Australians and our Australian production company, not a major, foreign, Hollywood Studio earning billions of dollars per year.
Therefore we are extremely disappointed in the response from the Federal and State Governments, as we really felt like we had a very substantial and deserving business case which would have benefited at least a quarter to a third of our population who lived through and or were directly impacted by the Vietnam War and importantly the film would be a substantial contribution to our history and culture.
We had also planned to work with Australian charity organisations such as SOLDIER ON, Vietnam Veterans Resource Group and the RSL to raise money and awareness for their organisations and the men, women, families and issues they support. This world first crowdfunding angle would have seen some substantial money going to these organisations and some unique, exciting rewards going to contributors. However, crowdfunding is still a risk and although we'd love to raise $4m this way the reality is we'd likely only raise something like $500k to $2m.
65,000 Australians served in the Vietnam War from 1965 to December 1972, more than 500 were killed and 3,129 were wounded. Between 1965 and 1972, over 800,000 Australian men were forced to register for National Service (6.9% of the total population at that time) with 63,000 being conscripted and over 15,000 'nashos' serving in the war.
At least 3 million of the 6 million over 55 year old population in Australia today lived through and were directly impacted by the Vietnam War with family members or immediate friends being forced to register for the ballot, being conscripted and/or serving, dying or being wounded. If we also factor in the children and grandchildren of those directly affected by the Vietnam War, the numbers grow to more than 7 million living Australians.
And yet, these millions of Australians directly affected by the Vietnam War as well as the rest of the general public and international audiences, have not yet had an opportunity to see a more modern version of the ANZAC legend and sacrifice on the big screen. Gallipoli was the birth of the ANZAC spirit and legend. Long Tan is the modern personification of it.
Sadly, many Vietnam veterans still do not consider themselves part of the broader ANZAC narrative and history because of the way they were treated during and immediately after the war. But we are convinced that our film DANGER CLOSE will be a catalyst in not only helping them and their families feel they are appreciated, important and not forgotten, but it will also inspire a new generation of Australians to continue to carry forward the legacy of these more contemporary, regularly overlooked diggers.
All World War One veterans have now passed away, but most of our Vietnam Veterans are still alive including many of those who fought at Long Tan, Balmoral, Coral and many other engagements throughout the Vietnam War.
It is really sad to think that in 2015, 50 years after the first Australian and New Zealand combat troops landed in Vietnam that Australian Governments and some potential investors don't think that DANGER CLOSE deserves some special assistance or that it will resonate with the Australian, New Zealand and international audiences at the box office. The smash hit American films LONE SURVIVOR ($125m in USA) and AMERICAN SNIPER ($350m in USA) proved that great, home-grown stories, made well, with great marketing can and will work with home audiences. Many, many people said that both of those films would not work and certainly would not be anywhere near as successful as they have been. We are confident that DANGER CLOSE has (at least) the equivalent local (Australia & New Zealand) potential.
I started this journey just over 10 years ago and I've spent hundreds of thousands of dollars of my own savings and debt, 10 years of sometimes exhausting time and effort and asked for lots of favours to firstly make our fantastic, award winning and critically acclaimed documentary THE BATTLE OF LONG TAN narrated by Sam Worthington, and raise awareness of the amazing Vietnam Veterans and their stories, their families and the Vietnam War in general. My team and I have also supported Lt Col Harry Smith (MC, SG) and the other veterans where we could, help raise awareness of their stories and help resolve the Long Tan medals travesty. Lastly and importantly, we've spent these past 10 years building a solid foundation of awareness of Long Tan for an eventual movie and these past few years we've assembled an incredible team to bring this story to life on the big screen. But sadly, we've come up short.
So I just wanted to say sorry, but that we've tried absolutely everything possible to get it across the line.
Yours sincerely,
Martin Walsh
Producer