Martin Walsh
Martin Walsh
Director of Digital and Award Winning Film Producer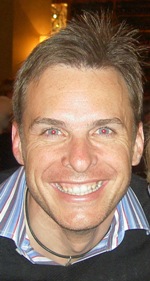 Martin Walsh has built a successful marketing career spanning more than 21 years in the media, technology and entertainment industries. My LinkedIn profile.
He has worked in senior marketing roles across radio, film, music, games, entertainment and technology for companies such as News Corporation, PBL/Village Roadshow, Austereo, BMG (Bertelsmann), Sydney 2000 Olympics and Tabcorp. From 2005 to early 2011 Martin was the Head of Digital Marketing for technology leaders Microsoft and then IBM. Martin specialises in 360 degree digital broadcasting, mobile marketing, integrated marketing and digital marketing with particular expertise in strategy and execution as well as social media / social influence marketing, social CRM / CRM / marketing automation / lead management, personas, customer experience, communications planning, search engine marketing, PR / online reputation management, analytics, advertising and research.
Martin is also regularly asked to speak and present at various industry events from SPAA (Screen Producers Association Australia), Fringe SPAA, iMedia and eMetrics to name a few and comment in the media on marketing, mobile, digital broadcasting / online video and filmmaking. He has also lectured to students at AFTRS as well as speak to and present directly to employees of other companies like Commonwealth Bank, News Corporation, Nestle, Australian Rugby Union and many others.
In late 2004 Martin established Red Dune Films and acquired the film, documentary & story rights to the Battle of Long Tan from the seven Australian Long Tan combat commanders. In 2006 Martin Walsh created, co-wrote, researched, produced and marketed the criticially acclaimed, ASTRA award winning & TV Week Logie award nominated Battle of Long Tan documentary for The History Channel which was narrated by Sam Worthington (Terminator Salvation, Avatar & Clash of The Titans). Martin is also currently developing a feature film on Long Tan.
Martin actually began his early working life as a musician following in the footsteps of his father, Leon Walsh. Martin sang and played the drums in various Melbourne bands in addition to acting, appearing in TV commercials, film and TV drama before moving to the rent paying (business) side of the fence.
Immediately prior to moving to Microsoft, Martin successfully grew the eCommerce division of NSW TAB which then became part of Tabcorp from AUD$20 million in annual sales to more than $AUD700 million in annual sales. Martin has also been the driving force for many TV / Radio / Multimedia initiatives from News Corporation's Sydney 2000 Olympics online project, Fox Sports / AFL / NBL online and the live streaming of the Mushroom Records 25th Anniversary concert. Martin also established Sky Racing TV online (both live and on demand) which included audio replays of every horse, harness & greyhound race in Australia being published online within seconds of a race finishing along with a comprehensive 5 year audio archive.
Martin served in Australian Army Special Forces – 2 Commando Company, 1st Commando Regiment and he holds post graduate qualifications in Entrepreneurship and Innovation from Swinburne University.
Here are some examples of Martin's marketing skills and expertise:
|
Get your Presentation Pack