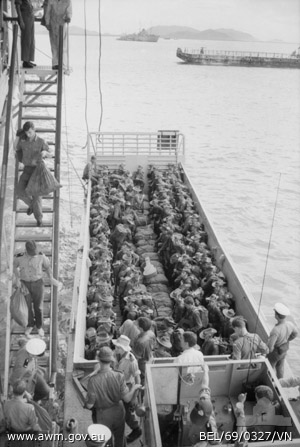 50 years ago in June 1965, the first Australian combat troops, 1RAR along with support elements; 105 Field Battery, 161 Field Battery (New Zealand) and a Troop of Australian APC's – all attached to the US 173rd Airborne Brigade – arrived in Vietnam. 49 years ago on 9 June 1966, the first Australian Task Force arrived in Vietnam.
An infantry battalion, 6RAR, comprising approximately 600 combat troops, an Armoured Personnel Carrier unit, the 4/19th Prince of Wales Light Horse, Australian Artillery, a Royal Australian Air Force (RAAF) unit with six Caribou planes, a small surgical team, some civil engineers, diary and signals experts and the men in the Australian Army Training Team Vietnam (AATTV), were under the command of Colonel, later Brigadier, Oliver Jackson, the Commander, Australian Army Force, Vietnam, who although based at the Australian Headquarters in Saigon, was under the operational control of the U.S. Supreme Commander, General William Westmoreland.
Earlier on 6 June 1966, eight Iroquois helicopters from 9 Squadron, Royal Australian Air Force (RAAF), landed at the Vung Tau airbase, Vietnam. The Bell UH-1B Iroquois or "Huey" is almost synonymous with the Vietnam War and for the next five and a half years 9 Squadron's Hueys supported the 1st Australian Task Force (1ATF).