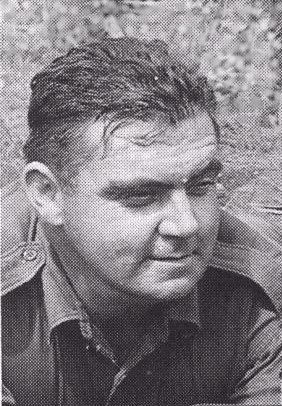 Arguably the backbone and discipline of any infantry company is the Company Sergeant Major (CSM). These soldiers of Warrant Officer rank are part father figure, part teacher and part principle / headmaster. Almost all of the CSM's I've come across have had very strong and unique personalities made up of steadiness, humour, discipline but ultimately a sense of fairness. In the case of D Company (Coy), 6RAR, the CSM was the 31 year old WO2 (Warrant Officer) Jack Kirby.
While the short and nuggetty Major Harry Smith, Officer Commanding (OC) D Coy and the young soldiers strode out on training runs, Jack Kirby was feeling his age and weight. Kirby was a Malaya veteran and naturally a big build. Unable to keep up on the runs, he nevertheless plugged along, always finishing and earning the respect of the soldiers. At the Battle of Long Tan he was to deepen and broaden their regard with his steadiness, bravery and humour.
Throughout the battle 'Big Jack' Kirby disregarded his own safety while braving enemy fire to distribute ammunition. Kirby continuously exposed himself to enemy fire to carry wounded Australian's over his shoulder back to the Company Aid Post. At a critical point in the battle Kirby rushed out of the D Coy perimeter to silence a wheeled enemy heavy machine gun which was setting up less than 50 metres away from the Australians. He knew in just a few moments this heavy machinegun would be able to strafe and decimate the Australians. Kirby killed the enemy machinegun crew, rushed back and continued to carry on handing out ammunition, moving around the entire company position and giving out words of encouragement to the D Coy soldiers.